About Allen Chiropractic Health Clinic in Clinton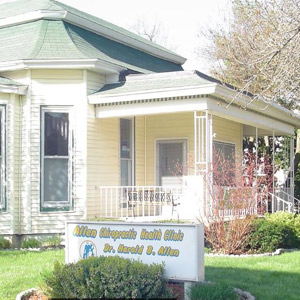 I began my practice in Clinton, Illinois in 1960. Many people suffer from headaches, back and neck pain or various joint aches or pains. Some aches are due to accidents or injuries, some simply the effects of poor posture or age. When left untreated conditions will worsen and spread to other parts of the body. Over the years I have had the pleasure of meeting and helping many patients by relieving stress from nerves, muscles, ligament, joints and bones, which improves total health.
YOUR FAMILY'S HEALTH IS OUR CONCERN
AND OUR COMMITMENT!
We are proud of our commitment to offer you the finest and most current chiropractic techniques in a relaxed and comfortable environment. I want all my patients to actively participate and ultimately reach their own personal health goals.
---
About Allen Chiropractic Health Clinic | (217) 935-6842